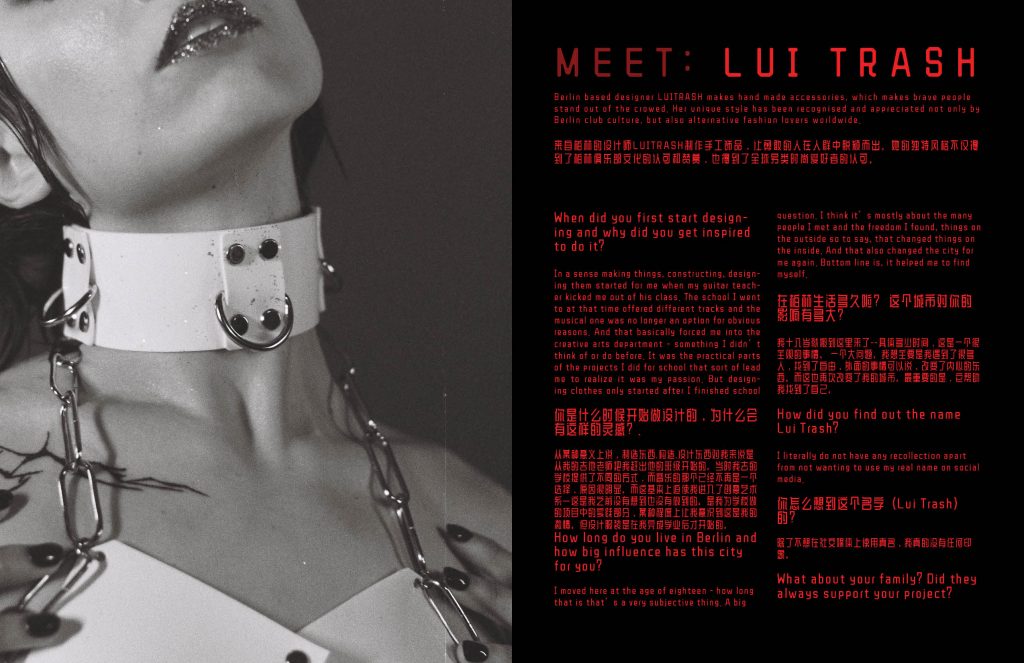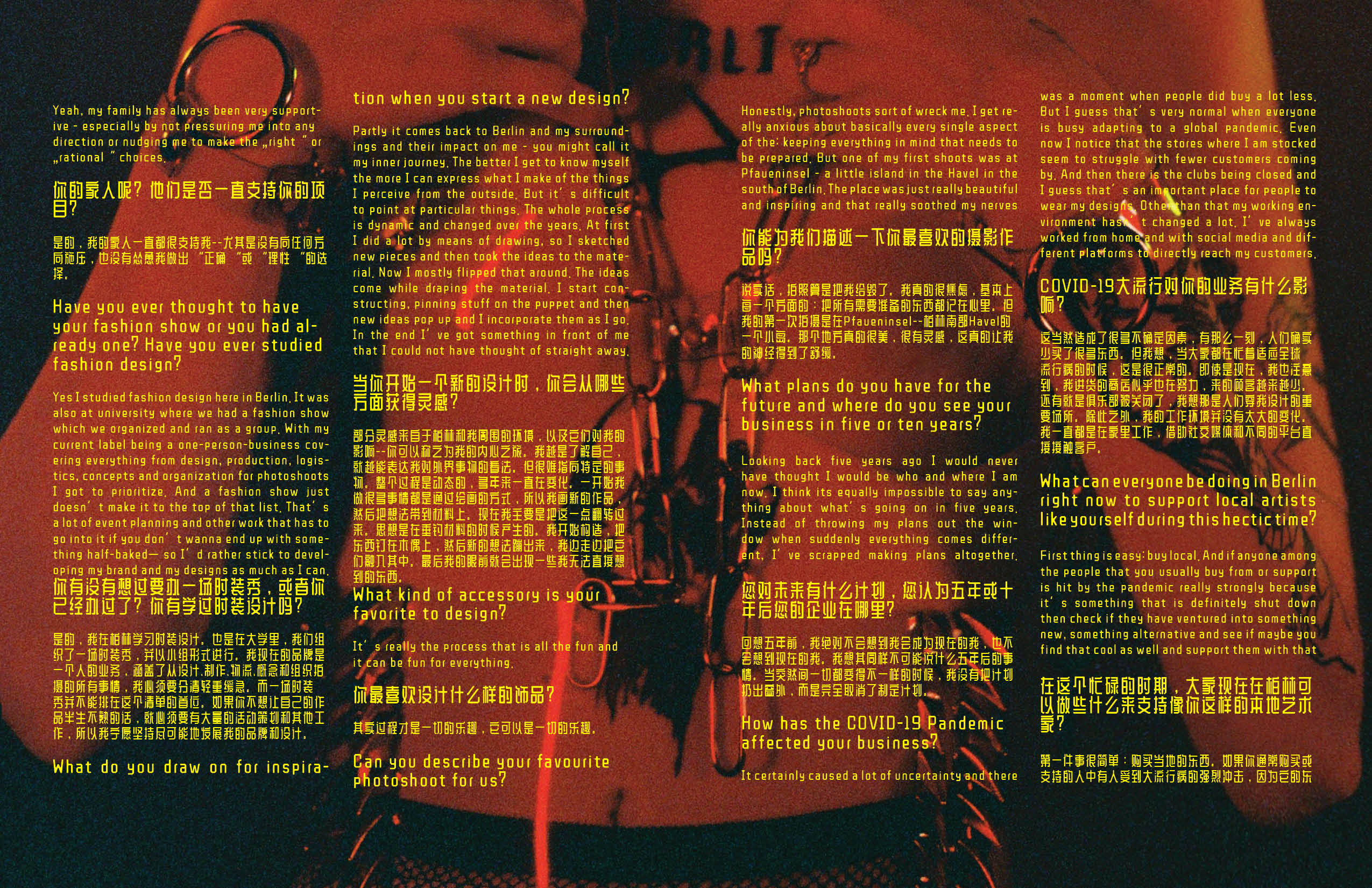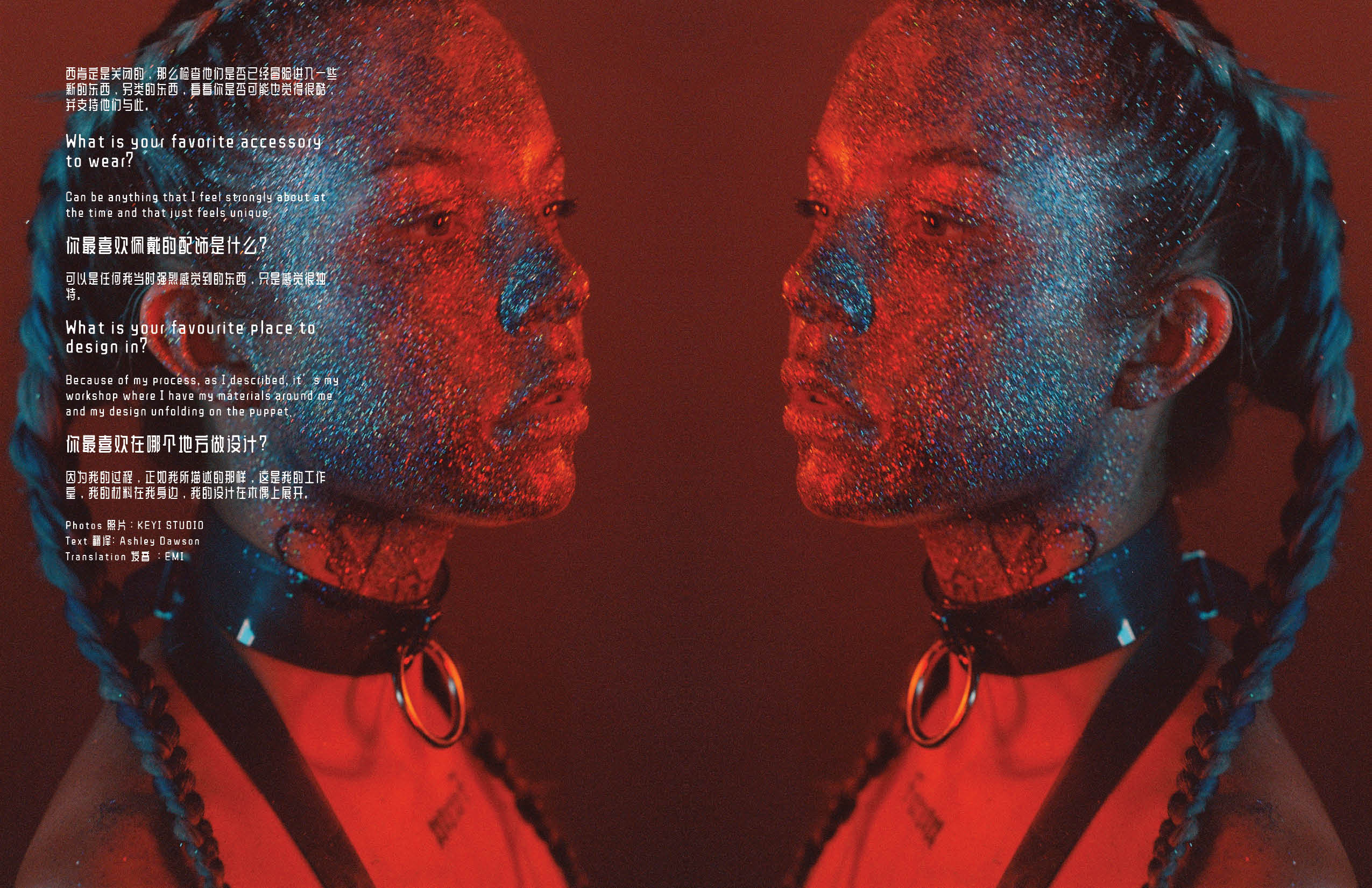 Berlin based designer LUITRASH makes hand made accessories, which makes brave people stand out of the crowd. Her unique style has been recognised and appreciated not only by Berlin club culture, but also alternative fashion lovers worldwide.
来自柏林的设计师LUITRASH制作手工饰品,让勇敢的人在人群中脱颖而出。她的独特风格不仅得到了柏林俱乐部文化的认可和赞赏,也得到了全球另类时尚爱好者的认可。
When did you first start designing and why did you get inspired to do it? 
In a sense making things, constructing, designing them started for me when my guitar teacher kicked me out of his class. The school I went to at that time offered different tracks and the musical one was no longer an option for obvious reasons. And that basically forced me into the creative arts department – something I didn't think of or do before. It was the practical parts of the projects I did for school that sort of lead me to realize it was my passion. But designing clothes only started after I finished school
你是什么时候开始做设计的,为什么会有这样的灵感?.
从某种意义上说,制造东西、构造、设计东西对我来说是从我的吉他老师把我赶出他的班级开始的。当时我去的学校提供了不同的方式,而音乐的那个已经不再是一个选择,原因很明显。而这基本上迫使我进入了创意艺术系—这是我之前没有想到也没有做到的。是我为学校做的项目中的实践部分,某种程度上让我意识到这是我的激情。但设计服装是在我完成学业后才开始的。
How long do you live in Berlin and how big influence has this city for you?
I moved here at the age of eighteen – how long that is that's a very subjective thing. A big question. I think it's mostly about the many people I met and the freedom I found, things on the outside so to say, that changed things on the inside. And that also changed the city for me again. Bottom line is, it helped me to find myself.
在柏林生活多久啦? 这个城市对你的影响有多大?
我十八岁就搬到这里来了–具体多少时间,这是一个很主观的事情。 一个大问题。我想主要是我遇到了很多人,找到了自由,外面的事情可以说,改变了内心的东西。而这也再次改变了我的城市。最重要的是,它帮助我找到了自己。
How did you find out the name Lui Trash?
I literally do not have any recollection apart from not wanting to use my real name on social media.
你怎么想到这个名字(Lui Trash)的?
除了不想在社交媒体上使用真名,我真的没有任何印象。
What about your family? Did they always support your project?
Yeah, my family has always been very supportive – especially by not pressuring me into any direction or nudging me to make the "right" or "rational" choices.
你的家人呢?他们是否一直支持你的项目?
是的,我的家人一直都很支持我–尤其是没有向任何方向施压,也没有怂恿我做出 "正确 "或 "理性 "的选择。
Have you ever thought to have your fashion show or you had already one? Have you ever studied fashion design?
Yes I studied fashion design here in Berlin. It was also at university where we had a fashion show which we organized and ran as a group. With my current label being a one-person-business covering everything from design, production, logistics, concepts and organization for photoshoots I got to prioritize. And a fashion show just doesn't make it to the top of that list. That's a lot of event planning and other work that has to go into it if you don't wanna end up with something half-baked— so I'd rather stick to developing my brand and my designs as much as I can.
你有没有想过要办一场时装秀,或者你已经办过了?你有学过时装设计吗?
是的,我在柏林学习时装设计。也是在大学里,我们组织了一场时装秀,并以小组形式进行。我现在的品牌是一个人的业务,涵盖了从设计、制作、物流、概念和组织拍摄的所有事情,我必须要分清轻重缓急。而一场时装秀并不能排在这个清单的首位。如果你不想让自己的作品半生不熟的话,就必须要有大量的活动策划和其他工作,所以我宁愿坚持尽可能地发展我的品牌和设计。
What do you draw on for inspiration when you start a new design?
Partly it comes back to Berlin and my surroundings and their impact on me – you might call it my inner journey. The better I get to know myself the more I can express what I make of the things I perceive from the outside. But it's difficult to point at particular things. The whole process is dynamic and changed over the years. At first I did a lot by means of drawing, so I sketched new pieces and then took the ideas to the material. Now I mostly flipped that around. The ideas come while draping the material. I start constructing, pinning stuff on the puppet and then new ideas pop up and I incorporate them as I go. In the end I've got something in front of me that I could not have thought of straight away.
当你开始一个新的设计时,你会从哪些方面获得灵感?
部分灵感来自于柏林和我周围的环境,以及它们对我的影响–你可以称之为我的内心之旅。我越是了解自己,就越能表达我对外界事物的看法。但很难指向特定的事物。整个过程是动态的,多年来一直在变化。一开始我做很多事情都是通过绘画的方式,所以我画新的作品,然后把想法带到材料上。现在我主要是把这一点翻转过来。思想是在垂钓材料的时候产生的。我开始构造,把东西钉在木偶上,然后新的想法蹦出来,我边走边把它们融入其中。最后我的眼前就会出现一些我无法直接想到的东西。
What kind of accessory is your favorite to design?
It's really the process that is all the fun and it can be fun for everything.
你最喜欢设计什么样的饰品?
其实过程才是一切的乐趣,它可以是一切的乐趣。
Can you describe your favourite photoshoot for us?
Honestly, photoshoots sort of wreck me. I get really anxious about basically every single aspect of the: keeping everything in mind that needs to be prepared. But one of my first shoots was at Pfaueninsel – a little island in the Havel in the south of Berlin. The place was just really beautiful and inspiring and that really soothed my nerves
你能为我们描述一下你最喜欢的摄影作品吗?
说实话,拍照算是把我给毁了。我真的很焦虑,基本上每一个方面的:把所有需要准备的东西都记在心里。但我的第一次拍摄是在Pfaueninsel–柏林南部Havel的一个小岛。那个地方真的很美,很有灵感,这真的让我的神经得到了舒缓。
What plans do you have for the future and where do you see your business in five or ten years?
Looking back five years ago I would never have thought I would be who and where I am now. I think its equally impossible to say anything about what's going on in five years. Instead of throwing my plans out the window when suddenly everything comes different, I've scrapped making plans altogether.
您对未来有什么计划,您认为五年或十年后您的企业在哪里?
回想五年前,我绝对不会想到我会成为现在的我,也不会想到现在的我。我想其同样不可能说什么五年后的事情。当突然间一切都变得不一样的时候,我没有把计划扔出窗外,而是完全取消了制定计划。
How has the COVID-19 Pandemic affected your business?
It certainly caused a lot of uncertainty and there was a moment when people did buy a lot less. But I guess that's very normal when everyone is busy adapting to a global pandemic. Even now I notice that the stores where I am stocked seem to struggle with fewer customers coming by. And then there is the clubs being closed and I guess that's an important place for people to wear my designs. Other than that my working environment hasn't changed a lot. I've always worked from home and with social media and different platforms to directly reach my customers.
COVID-19大流行对你的业务有什么影响?
这当然造成了很多不确定因素,有那么一刻,人们确实少买了很多东西。但我想,当大家都在忙着适应全球流行病的时候,这是很正常的。即使是现在,我也注意到,我进货的商店似乎也在努力,来的顾客越来越少。还有就是俱乐部被关闭了,我想那是人们穿我设计的重要场所。除此之外,我的工作环境并没有太大的变化。我一直都是在家里工作,借助社交媒体和不同的平台直接接触客户。
What can everyone be doing in Berlin right now to support local artists like yourself during this hectic time?
First thing is easy: buy local. And if anyone among the people that you usually buy from or support is hit by the pandemic really strongly because it's something that is definitely shut down then check if they have ventured into something new, something alternative and see if maybe you find that cool as well and support them with that
在这个忙碌的时期,大家现在在柏林可以做些什么来支持像你这样的本地艺术家?
第一件事很简单:购买当地的东西。如果你通常购买或支持的人中有人受到大流行病的强烈冲击,因为它的东
西肯定是关闭的,那么检查他们是否已经冒险进入一些新的东西,另类的东西,看看你是否可能也觉得很酷,并支持他们与此。
What is your favorite accessory to wear?
Can be anything that I feel strongly about at the time and that just feels unique.
你最喜欢佩戴的配饰是什么?
可以是任何我当时强烈感觉到的东西,只是感觉很独特。
What is your favourite place to design in?
Because of my process, as I described, it's my workshop where I have my materials around me and my design unfolding on the puppet.
你最喜欢在哪个地方做设计?
因为我的过程,正如我所描述的那样,这是我的工作室,我的材料在我身边,我的设计在木偶上展开。
"Distorted Fantasy" is the name for this photo-story art directed by KEYI STUDIO [ Grzegorz Bacinski + Izabella Chrobok ] who were inspired by fantasy aesthetics and David Lynch movies.
Credits
Photography and retouch
Grzegorz Bacinski @eyes_dice
Izabella Chrobok @berlin_bunny_
KEYI STUDIO @keyistudio www.keyi.eu
Story published in @dreck.magazine & @keyimagazine
Models
Lueasy_ @lueasy_
Avanya @avanya
Alis @alisxlis
Make up and Hair
Eva Hel @evaxhel
Janette Peters @janetteptrsmua
Stylist
Lui Trash @lui.trash