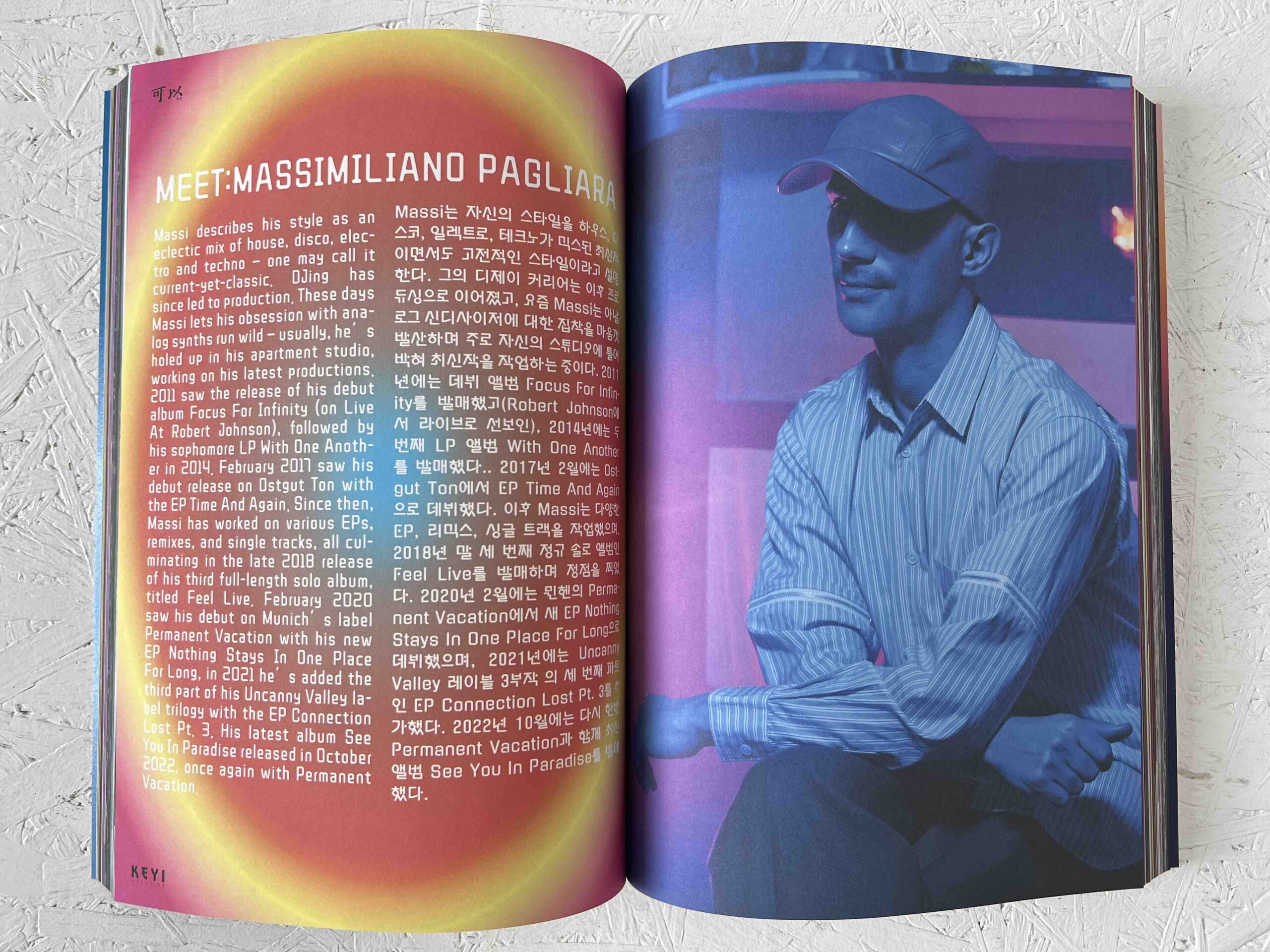 Massi describes his style as an eclectic mix of house, disco, electro and techno – one may call it current-yet-classic. DJing has since led to production. These days Massi lets his obsession with analog synths run wild – usually, he's holed up in his apartment studio, working on his latest productions.
2011 saw the release of his debut album Focus For Infinity (on Live At Robert Johnson), followed by his sophomore LP With One Another in 2014. February 2017 saw his debut release on Ostgut Ton with the EP Time And Again. Since then, Massi has worked on various EPs, remixes, and single tracks, all culminating in the late 2018 release of his third full-length solo album, titled Feel Live. February 2020 saw his debut on Munich's label Permanent Vacation with his new EP Nothing Stays In One Place For Long, in 2021 he's added the third part of his Uncanny Valley label trilogy with the EP Connection Lost Pt. 3. His latest album See You In Paradise released in October 2022, once again with Permanent Vacation.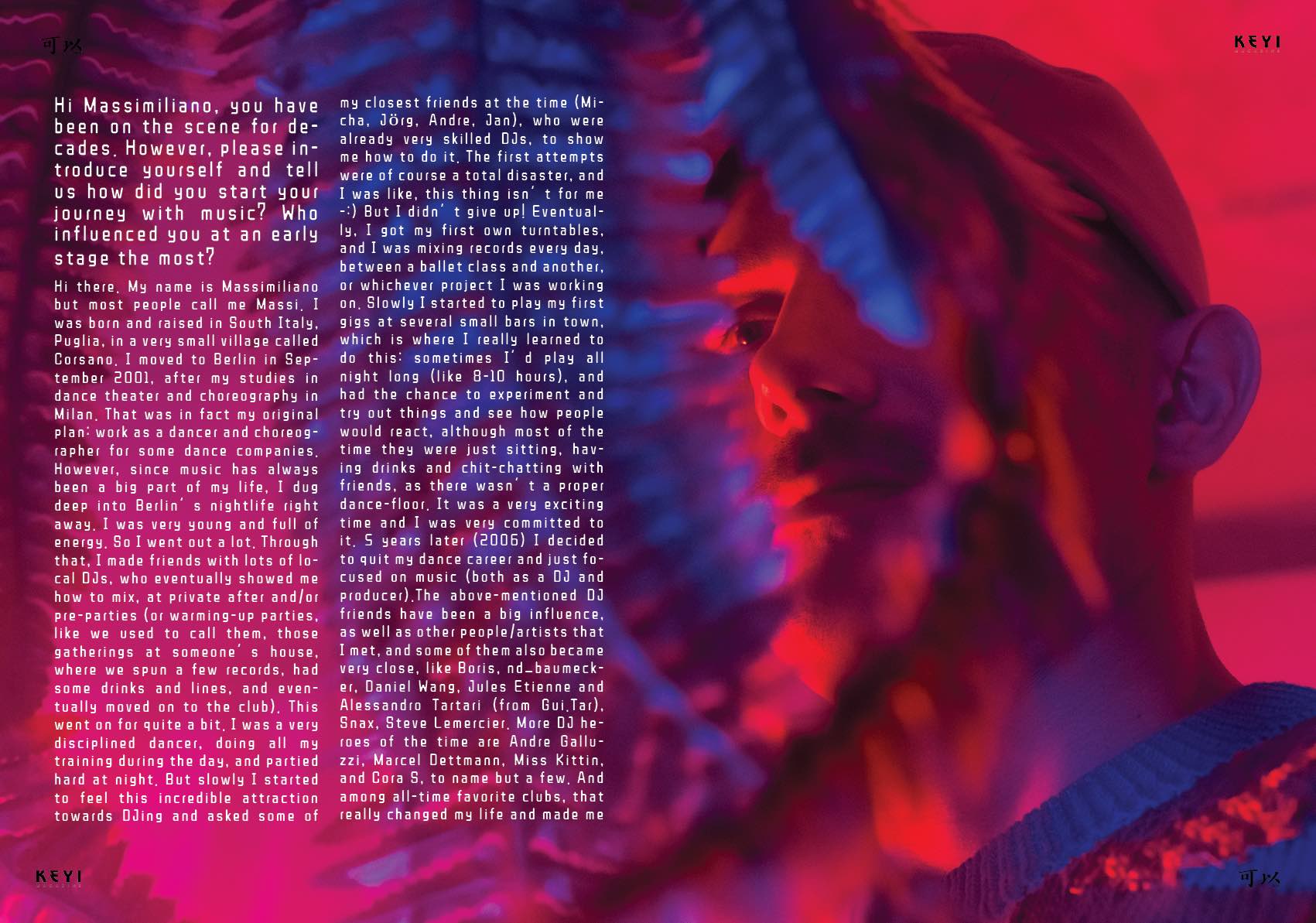 Hi Massimiliano, you have been on the scene for decades. However, please introduce yourself and tell us how did you start your journey with music? Who influenced you at an early stage the most?
Hi there. My name is Massimiliano but most people call me Massi. I was born and raised in South Italy, Puglia, in a very small village called Corsano. I moved to Berlin in September 2001, after my studies in dance theater and choreography in Milan. That was in fact my original plan: work as a dancer and choreographer for some dance companies. However, since music has always been a big part of my life, I dug deep into Berlin's nightlife right away. I was very young and full of energy.
So I went out a lot. Through that, I made friends with lots of local DJs, who eventually showed me how to mix, at private after and/or pre-parties (or warming-up parties, like we used to call them, those gatherings at someone's house, where we spun a few records, had some drinks and lines, and eventually moved on to the club). This went on for quite a bit.
I was a very disciplined dancer, doing all my training during the day, and partied hard at night.
But slowly I started to feel this incredible attraction towards DJing and asked some of my closest friends at the time (Micha, Jörg, Andre, Jan), who were already very skilled DJs, to show me how to do it. The first attempts were of course a total disaster, and I was like, this thing isn't for me -:) But I didn't give up! Eventually, I got my first turntables, mixing records every day, between a ballet class and another, or whichever project I was working on.
Slowly I started to play my first gigs at several small bars in town, which is where I really learned to do this: sometimes I'd play all night long (like 8-10 hours), and had the chance to experiment and try out things and see how people would react, although most of the time they were just sitting, having drinks and chit-chatting with friends, as there wasn't a proper dance-floor. It was a very exciting time and I was very committed to it.
5 years later (2006) I decided to quit my dance career and just focused on music (both as a DJ and producer). The above-mentioned DJ friends have been a big influence, as well as other people/artists that I met, and some of them also became very close, like Boris, nd_baumecker, Daniel Wang, Jules Etienne and Alessandro Tartari (from Gui.Tar), Snax, Steve Lemercier. More DJ heroes of the time are Andre Galluzzi, Marcel Dettmann, Miss Kittin, and Cora S, to name but a few. And among all-time favorite clubs, that really changed my life and made me who I am now, was the legendary OstGut. I had the best time of my life!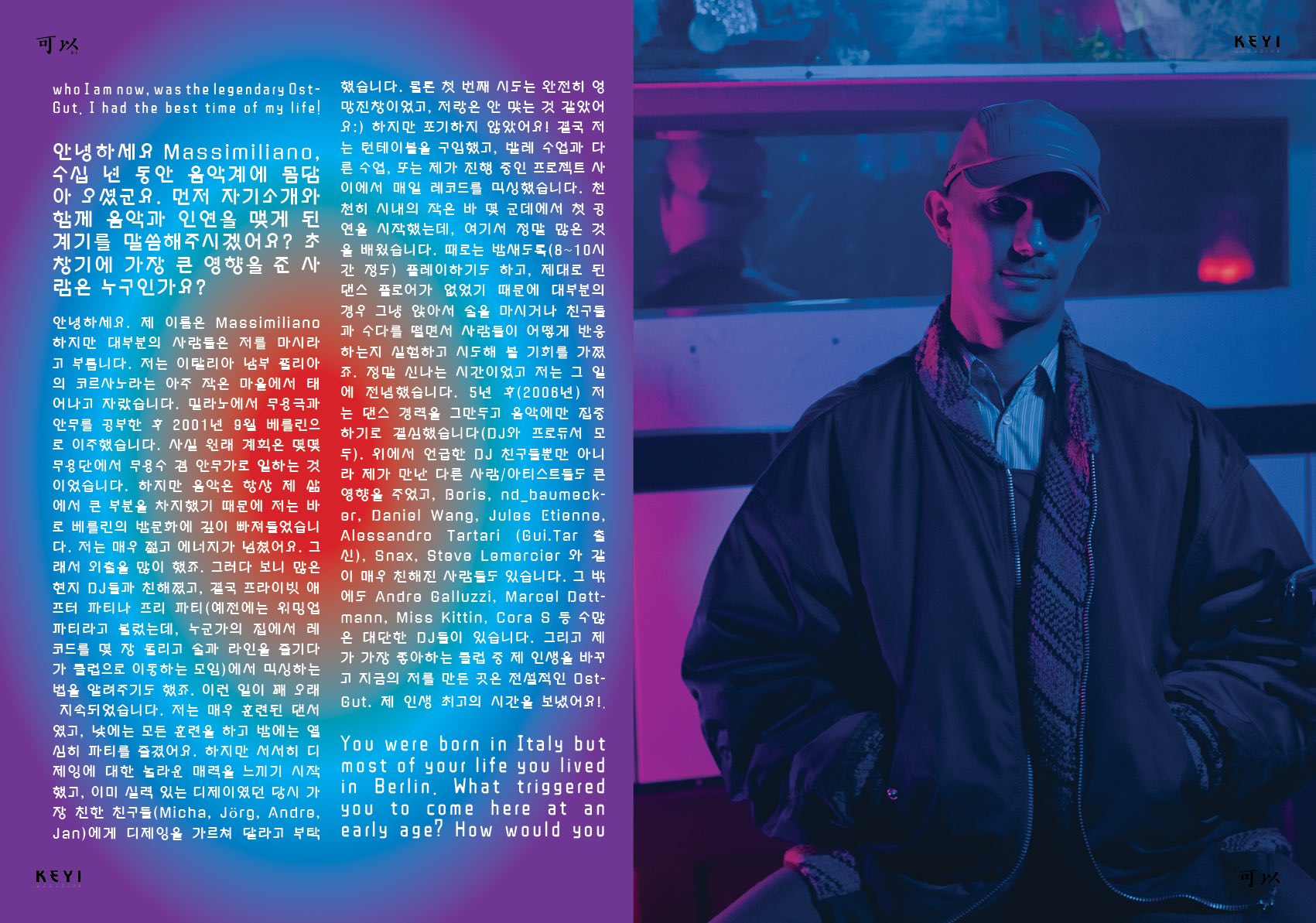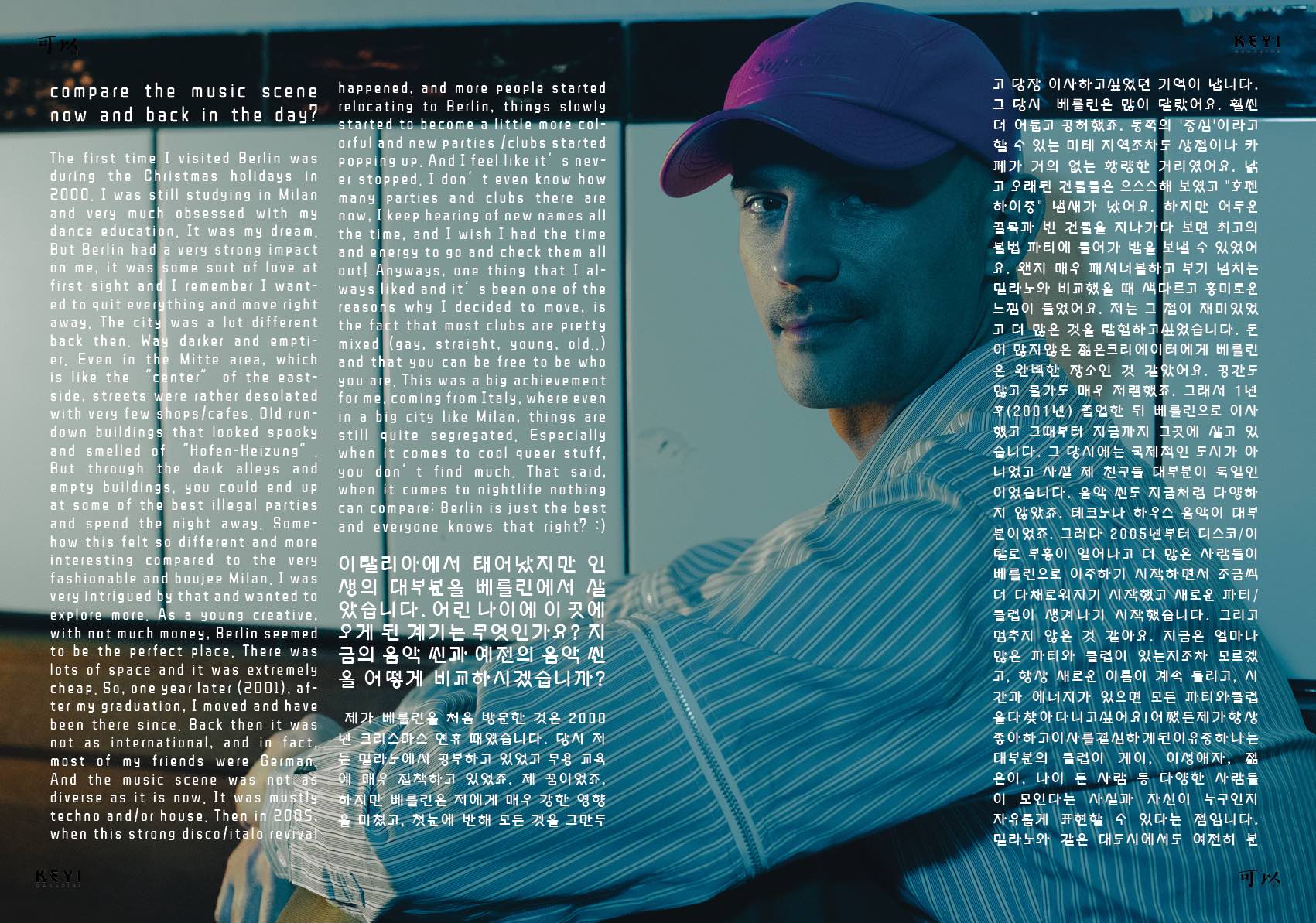 You were born in Italy but for most of your life, you lived in Berlin. What triggered you to come here at an early age? How would you compare the music scene now and back in the day?
The first time I visited Berlin was during the Christmas holidays in 2000. I was still studying in Milan and very much obsessed with my dance education. It was my dream. But Berlin had a very strong impact on me, it was some sort of love at first sight and I remember I wanted to quit everything and move right away.
The city was a lot different back then. Way darker and emptier. Even in the Mitte area, which is like the "center" of the east-side, streets were rather desolated with very few shops/cafes. Old run-down buildings that looked spooky and smelled of "Hofen-Heizung". But through the dark alleys and empty buildings, you could end up at some of the best illegal parties and spend the night away. Somehow this felt so different and more interesting compared to the very fashionable and boujee Milan.
I was very intrigued by that and wanted to explore more. As a young creative, with not much money, Berlin seemed to be the perfect place. There was lots of space and it was extremely cheap. So, one year later (2001), after my graduation, I moved and have been there since. Back then it was not as international, and in fact, most of my friends were German. And the music scene was not as diverse as it is now. It was mostly techno and/or house.
Then in 2005, when this strong disco/italo revival happened, and more people started relocating to Berlin, things slowly started to become a little more colorful, and new parties /clubs started popping up. And I feel like it's never stopped. I don't even know how many parties and clubs there are now, I keep hearing new names all the time, and I wish I had the time and energy to go and check them all out!
Anyways, one thing that I always liked and it's been one of the reasons why I decided to move, is the fact that most clubs are pretty mixed (gay, straight, young, old..) and that you can be free to be who you are. This was a big achievement for me, coming from Italy, where even in a big city like Milan, things are still quite segregated. Especially when it comes to cool queer stuff, you don't find much. That said, when it comes to nightlife nothing can compare: Berlin is just the best and everyone knows that right? 🙂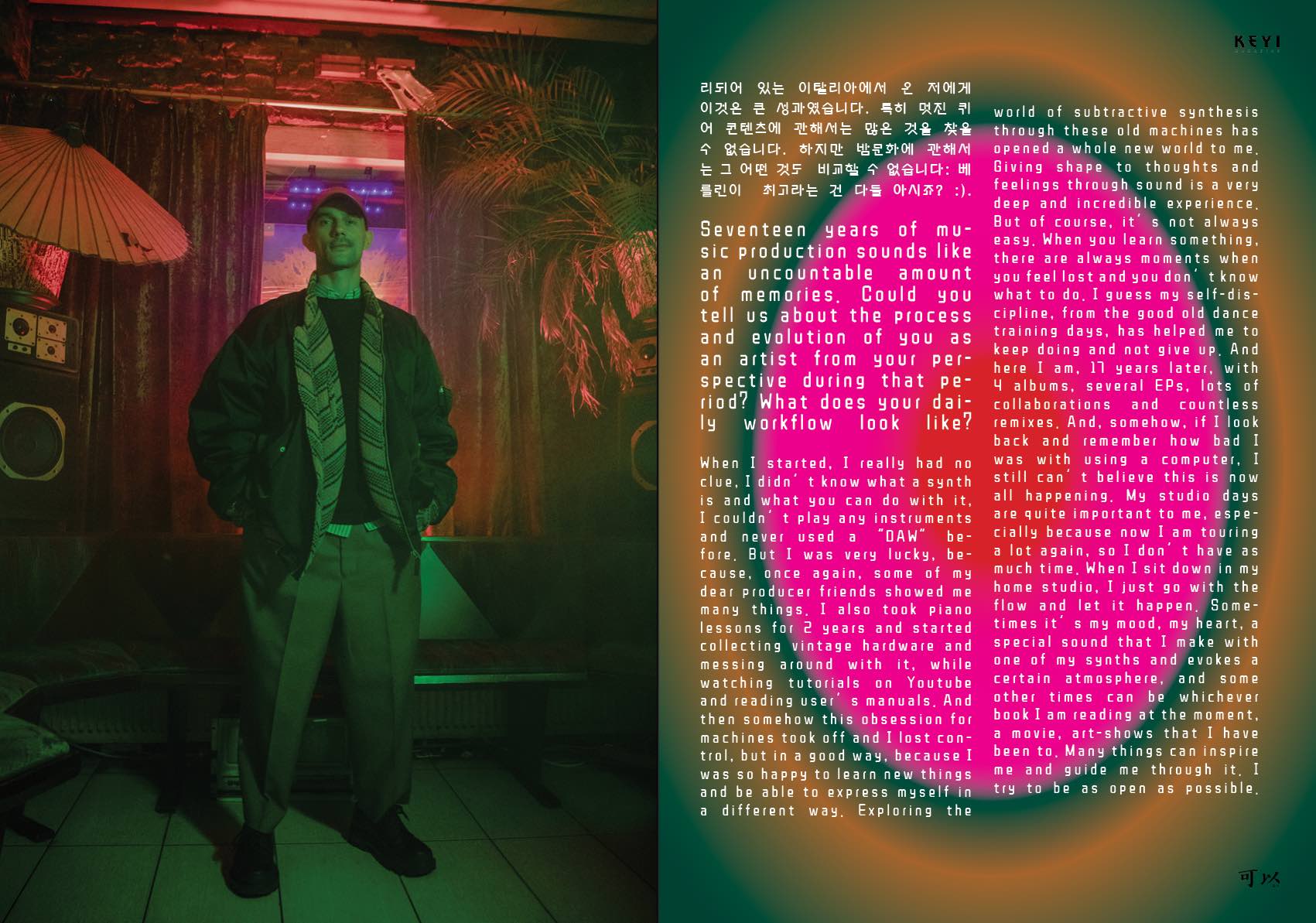 Seventeen years of music production sounds like an uncountable amount of memories. Could you tell us about the process and evolution of you as an artist from your perspective during that period? What does your daily workflow look like?
When I started, I really had no clue, I didn't know what a synth is and what you can do with it, I couldn't play any instruments and never used a "DAW" before. But I was very lucky, because, once again, some of my dear producer friends showed me many things. I also took piano lessons for 2 years and started collecting vintage hardware and messing around with it, while watching tutorials on Youtube and reading user's manuals.
And then somehow this obsession for machines took off and I lost control, but in a good way, because I was so happy to learn new things and be able to express myself in a different way. Exploring the world of subtractive synthesis through these old machines has opened a whole new world to me. Giving shape to thoughts and feelings through sound is a very deep and incredible experience.
But of course, it's not always easy. When you learn something, there are always moments when you feel lost and you don't know what to do.
I guess my self-discipline, from the good old dance training days, has helped me to keep doing and not give up. And here I am, 17 years later, with 4 albums, several EPs, lots of collaborations and countless remixes. And, somehow, if I look back and remember how bad I was with using a computer, I still can't believe this is now all happening. My studio days are quite important to me, especially because now I am touring a lot again, so I don't have as much time. When I sit down in my home studio, I just go with the flow and let it happen. Sometimes it's my mood, my heart, a
special sound that I make with one of my synths and evokes a certain atmosphere, and some other times can be whichever book I am reading at the moment, a movie, art-shows that I have been to. Many things can inspire me and guide me through it. I try to be as open as possible.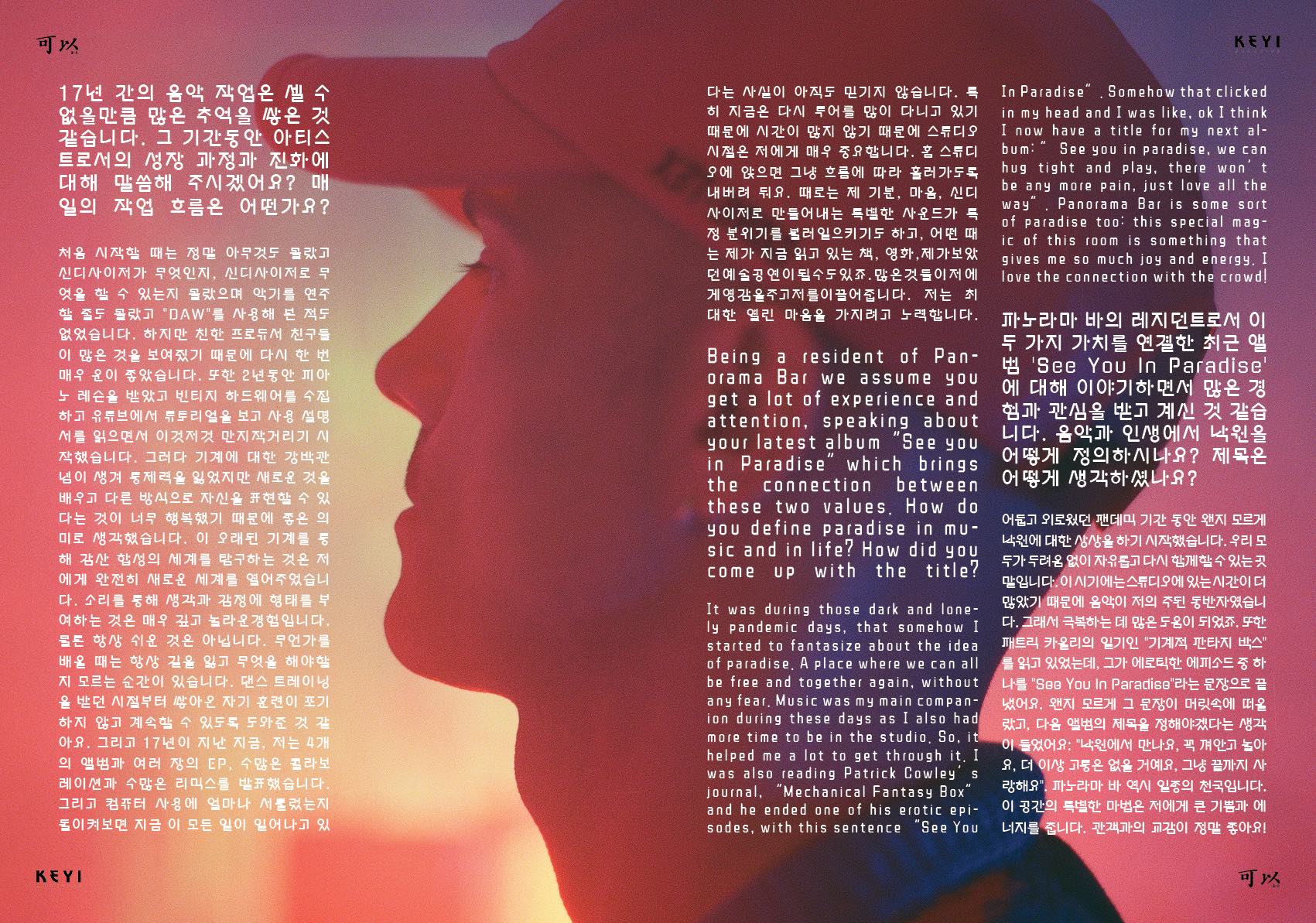 Being a resident of Panorama Bar we assume you get a lot of experience and attention, speaking about your latest album"See You in Paradise" which brings the connection between these two values. How do you define paradise in music and in life? How did you come up with the title?
It was during those dark and lonely pandemic days, that somehow I started to fantasize about the idea of paradise. A place where we can all be free and together again, without any fear. Music was my main companion during these days as I also had more time to be in the studio. So, it helped me a lot to get through it. I was also reading Patrick Cowley's journal, "Mechanical Fantasy Box" and he ended one of his erotic episodes, with this sentence "See You In Paradise".
Somehow that clicked in my head and I was like, ok I think I now have a title for my next album: " See you in paradise, we can hug tight and play, there won't be any more pain, just love all the way". Panorama Bar is some sort of paradise too: this special magic of this room is something that gives me so much joy and energy. I love the connection with the crowd!
We are in the loop listening to your latest album, getting more and more impressed. Speak about the collaborators whom you work with. Could you tell us the story behind each chapter of its creation?
First of all, I have started working on these tracks by myself. Once I felt there was enough material for an album and also some sort of narrative among them, I also envisioned possible collaborators.
For instance, the track "Half-time dreams", was originally instrumental. But then I felt like some nice vocals could be the little cherry on the cake.
I have reached out to INIT, with whom I have also been collaborating in the past. They were up for it and It was again pure magic! Nadia's voice took this song to another dimension. And pretty much the same thing for "Pepper on the tongue" and "See you in paradise": Curses and Vanessa's voices were just what it was missing. Snax and I have been friends forever and have lots of history.
I have been obsessed with his virtuoso keyboard skills since I first met him and saw him playing live. I don't know anyone that can play keyboards as he does! And so, I had to ask him to play the Steinway Grand Piano for "Mitate" and those classic M1 90's house chords in "Snap Out". He made me scream right away -:) I also wanted to try something new this time, and incorporate some real instruments. Therefore I asked my dear friend Tahl to do his magic with the saxophone in "Mitate" and "Half-time Dreams". And another dear friend, Matthieu, helped me with the recording of the Steinway Piano as I had never done that before: it was such a beautiful experience and it sounds pretty damn good I think 🙂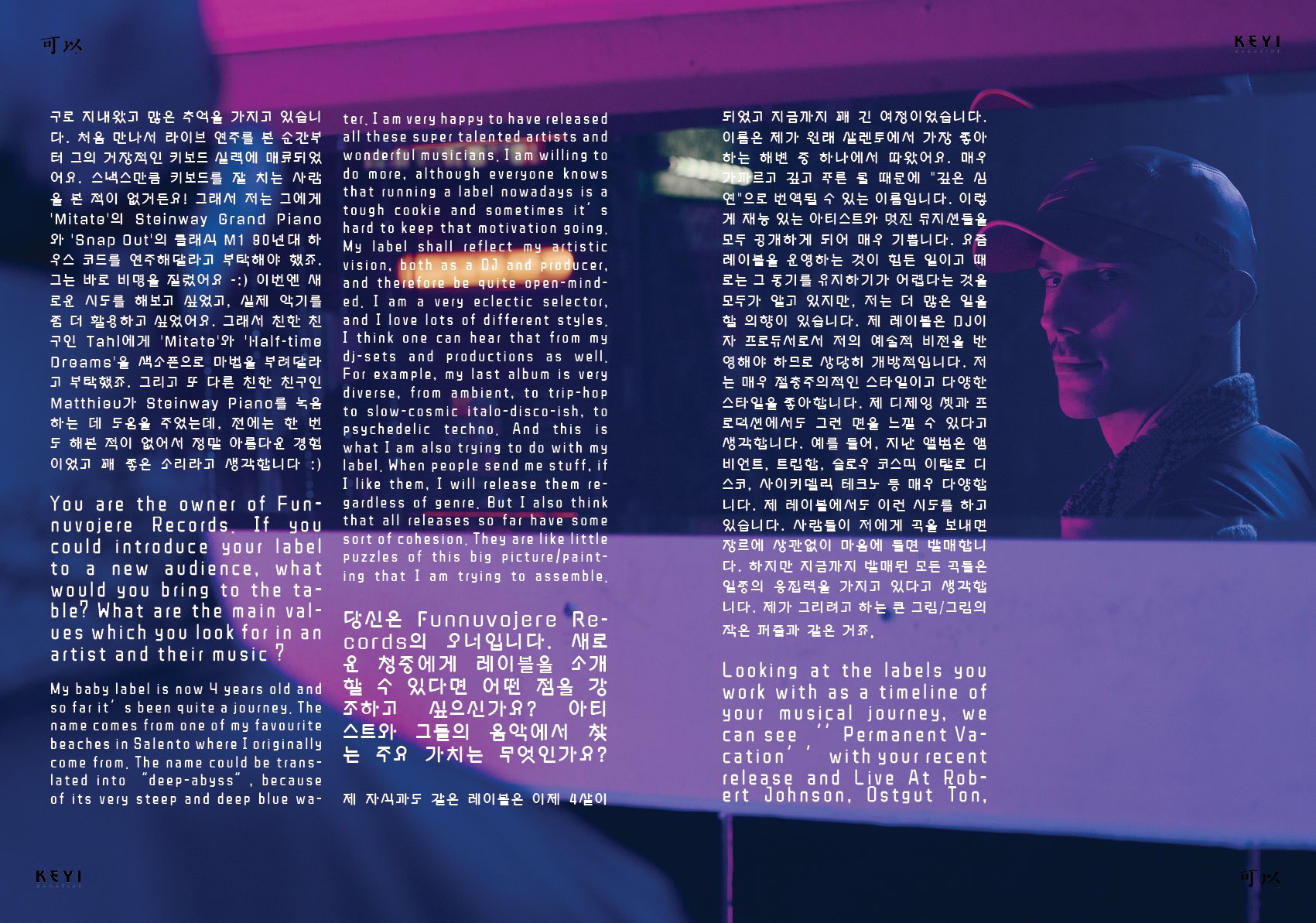 You are the owner of Funnuvojere Records. If you could introduce your label to a new audience, what would you bring to the table? What are the main values which you look for in an artist and their music ?
My baby label is now 4 years old and so far it's been quite a journey. The name comes from one of my favourite beaches in Salento where I originally come from. The name could be translated into "deep-abyss", because of its very steep and deep blue water. I am very happy to have released all these super talented artists and wonderful musicians. I am willing to do more, although everyone knows that running a label nowadays is a tough cookie and sometimes it's hard to keep that motivation going.
My label shall reflect my artistic vision, both as a DJ and producer, and therefore be quite open-minded. I am a very eclectic selector, and I love lots of different styles. I think one can hear that from my dj-sets and productions as well. For example, my last album is very diverse, from ambient, to trip-hop to slow-cosmic italo-disco-ish, to psychedelic techno. And this is what I am also trying to do with my label. When people send me stuff, if I like them, I will release them regardless of genre. But I also think that all releases so far have some sort of cohesion. They are like little puzzles of this big picture/painting that I am trying to assemble.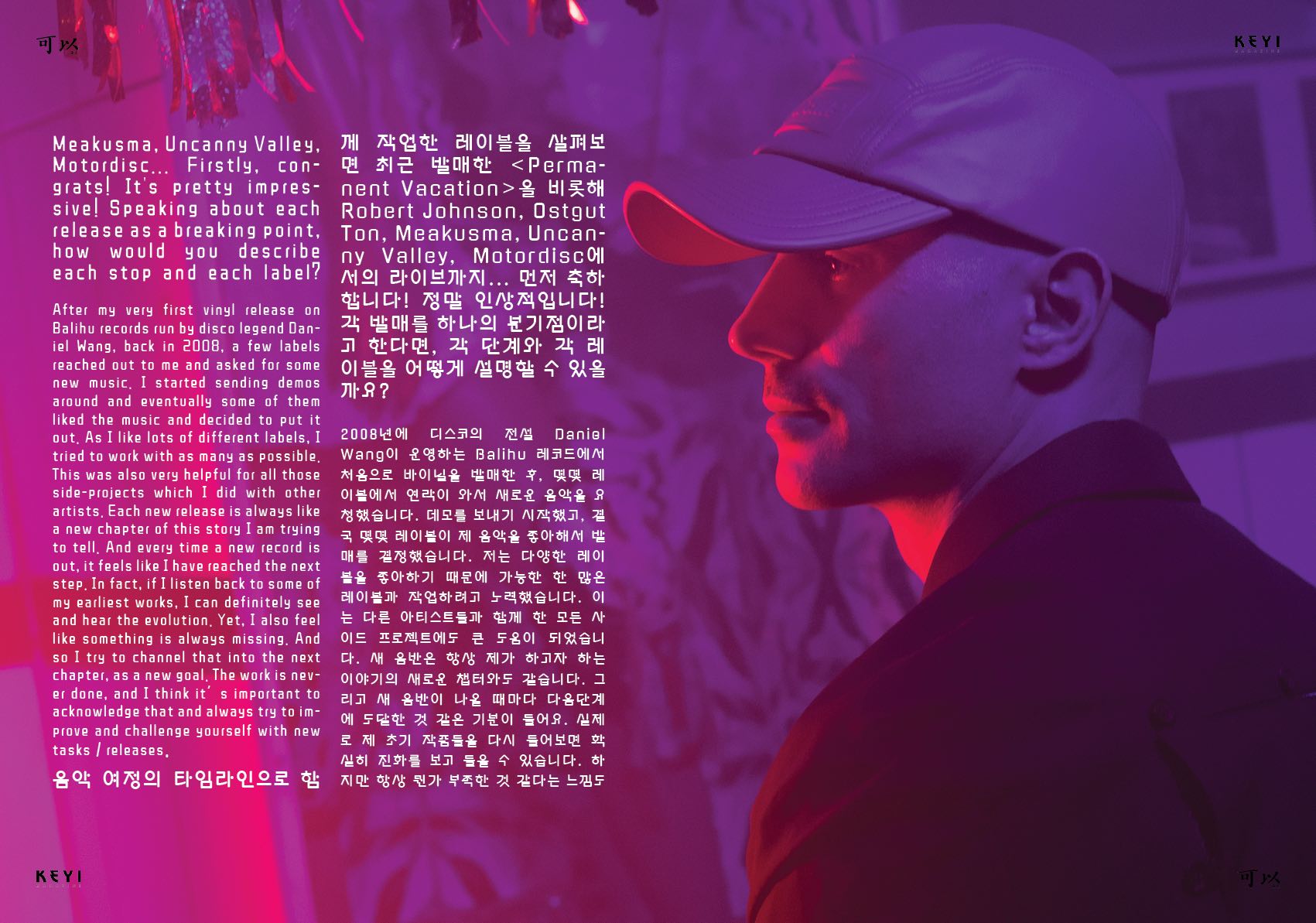 Looking at the labels you work with as a timeline of your musical journey, we can see ''Permanent Vacation'' with your recent release and Live At Robert Johnson, Ostgut Ton, Meakusma, Uncanny Valley, Motordisc… Firstly, congrats! It's pretty impressive! Speaking about each release as a breaking point, how would you describe each stop and each label?
After my very first vinyl release on Balihu Records run by disco legend Daniel Wang, back in 2008, a few labels reached out to me and asked for some new music. I started sending demos around and eventually some of them liked the music and decided to put it out. As I like lots of different labels, I tried to work with as many as possible. This was also very helpful for all those side projects which I did with other artists.
Each new release is always like a new chapter of the story I am trying to tell. And every time a new record is out, it feels like I have reached the next step. In fact, if I listen back to some of my earliest works, I can definitely see and hear the evolution. Yet, I also feel like something is always missing. And so I try to channel that into the next chapter, as a new goal. The work is never done, and I think it's important to acknowledge that and always try to improve and challenge yourself with new tasks/releases.
After having an impact in dance – electronic music as a genre and spreading your voice for over two decades, are there any rising artists on your radar that you think collaborate with or might be an integral part of the voice for the future generation? Why?
The music industry is very fast. There are so many new releases coming out every week that it is impossible to keep up and know every artist out there. Sometimes I struggle a bit with this as I feel like I am missing out a lot and there's so much music that I don't know. Most of the collaborations I did up to date came through friendships, admiration, or casual encounters.
For instance, I still remember this one time I went to a concert in Berlin at this space that doesn't exist anymore, called Basso, and saw Sigrid Elliott performing live. It was love at first sight. I was so impressed by her powerful voice. After her performance, I just went and talked to her and asked if she would be up for doing some vocals on my first album.
And boom! She came to my studio and we recorded "I'll never be", "Feel so Real" and "Gonna get your love gonna find you". I, of course, keep discovering new artists, when I dig through new music for my DJ sets and I do have a few on my "to-do/collaboration" list. I have learned so much through collaborating with different people in these last years and I am definitely willing to do more.
Tour-wise seems like you played everywhere in the world. We would like to get more insight into the Asian side, remember you were in Hong Kong in 2019, then Beijing and Chengdu. How would you compare those events to each other?
Oh yes, that was a little while ago now, it feels so far away. The first thing that somehow kind of scared me when I arrived in Asia, and more specifically in China, Beijing, was all the strict rules that the government has: people can't use the internet/social media as much and as freely as we can in the western spoiled world I came from.
Not to mention the use of drugs, which is strictly prohibited and very dangerous. So, that was somewhat intimidating and felt a bit hostile. But then the parties were pretty fun and I actually felt how much the crowd needed this. Perhaps it wasn't as wild as I am used to (Living in Berlin for almost 22 years now, I am quite spoiled when it comes to nightlife;), yet people were so into it.
---
Talent: Massimiliano Pagliara
Interview: Grzegorz Bacinski
Photos: Keyi Studio [ www.keyi.eu ]
Izabella Chrobok + Grzegorz Bacinski
Location: Sameheads, Berlin
READ IT ON PAPER & click here!